Homepage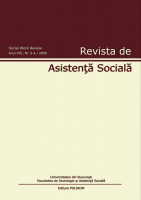 Social Work Review is aiming to be a meeting place for ideas, a mean of dissemination of researches, good practices and experiences in the field of social work. Articles from all areas of social work are welcomed. There will be published innovative articles, researches, and comments of policies, practices and their implications for social workers. Social Work Review appears four time a year: March, June, September and December. Each article is peer-reviewed by two reviewers.

Social Work Review is now launching the Archive Project that allows professionals and the public to view documents that certifies the tradition of the aforementioned review in Romania. At the moment, we can post online the first numbers of the publication that was edited by the "Ileana Princess" Superior School of Social Work from Bucharest, therefore entitled Social Work.

Issue no. 1/2023, edited by Prof. Cosmin Goian, PhD and Lecturer Loredana Marcela Trancă, PhD, from the Department of Social Work at the West University of Timisoara, provides a space to present the results of research and articles focused on the topic: Social Work in a Changing Society. Recent social changes affect various areas in which social workers intervene. Whether we are talking about families who cannot afford the rising prices of electricity due to poverty, refugees from the war, families affected by the Covid-19 pandemic or the economic crisis, children and young people who are being exploited, homeless people or communities recovering from natural disasters, social workers are at the forefront, assisting vulnerable groups.
Receiving contributions: November 15, 2022;
Evaluation of contributions by reviewers: December 15, 2022;
Receiving final contributions: January 10, 2023;
Estimated date of publication: March 2023.
Manuscripts must be sent by e-mail by the deadline in a word format, respecting the requirements of the journal (http://www.swreview.ro/index.pl/conditii_de_publicare_en), to the two editors: cosmin.goian@e-uvt.ro and loredana.tranca@e-uvt.ro.


Issue no. 2/2023 will be dedicated to post-pandemic landscape in criminal justice social work. The Pandemic has challenge social workers all around the word with new tasks and new types of priorities. The prisoner's relationship with the outside world was problematic, to say the least, during the Pandemic. This reality has forced many administrators to be creative in the use of telephone, video links and other communication means to allow prisoners to contact their families outside at reasonable costs. Probation officers had to refurbish their skill sets and start providing e-supervision via telephones or ZOOM. Technology became more and more important on the daily basis. This issue is keen to host papers from all over the world in connection to these post-pandemic questions in the criminal justice sector.
This issue will be coordinated by Professor Ioan Durnescu, Department of Social Work, Faculty of Sociology and Social Work, University of Bucharest. Submissions are welcome until December 2022 at: ioan.durnescu@unibuc.ro
Peer review process will last until March 2023.
Expected publication date 1st of June 2023.


Issue 3/2023 focuses on the various innovative approaches to social work practice, research and education. In the context of socio-economic turbulences caused by situations and events with global impact, such as the recent COVID-19 pandemic and the escalation of the Russia-Ukraine war, social work has had to activate crisis intervention mechanisms and re-think its strategies for assisting the most disadvantaged populations. We invite researchers and practitioners from the field of social work as well as other connected social science fields to submit papers based in empirical or theoretical work that reflect on the dynamic and adaptative character of social interventions. All articles are to be submitted by email directly to the editors of the issue: Mihaela Popa, PhD (mihaela.popa@unibuc.ro) and Daniela Gaba, PhD (daniela.gaba@sas.unibuc.ro), Social Work Department, University of Bucharest, by March 1st, 2023.