Homepage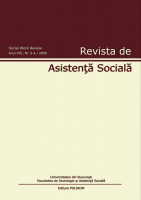 Social Work Review is aiming to be a meeting place for ideas, a mean of dissemination of researches, good practices and experiences in the field of social work. Articles from all areas of social work are welcomed. There will be published innovative articles, researches, and comments of policies, practices and their implications for social workers. Social Work Review appears four time a year: March, June, September and December. Each article is peer-reviewed by two reviewers.

Social Work Review is now launching the Archive Project that allows professionals and the public to view documents that certifies the tradition of the aforementioned review in Romania. At the moment, we can post online the first numbers of the publication that was edited by the "Ileana Princess" Superior School of Social Work from Bucharest, therefore entitled Social Work.

Issue no. 3/2022 is dedicated to young people's relationships. We invites contributors from Romania and abroad to reflect on the relevance of this topic in the social work field. We encourage theoretical and empirical studies related, but not limited to the following: young people's relationships – including sexual identity; teenage pregnancy; family relationships; living in separated, divorced or blended families; family conflict; parental migration; supporting those with mental health issues; use of drugs and alcohol; sexual and reproductive health issues young people's education – including the impact of the internet on learning and relationships; transitions between education, career and family; youth employment; the impact of the Covid-19 pandemic.
Submissions can be sent directly to the editors: Dr. Sue Kay-Flowers, Senior Lecturer at the Faculty of Education, Health and Community from Liverpool John Moores University, UK (S.J.Kay-Flowers@ljmu.ac.uk) and Dr. Cristina Faludi, Lecturer at the Social Work Department of "Babeș-Bolyai" University Cluj-Napoca (cristina.faludi@ubbcluj.ro or cristina.faludi@gmail.com). Deadline for manuscript submissions is 1st of June. Estimated publishing date of the special issue is September 2022.


Issue no 4/2022, edited by Associate Professor, Valentina Rujoiu, Ph.D., Habil. (Department of Social Work, Faculty of Sociology and Social Work, University of Bucharest) invite specialists, academics, practitioners, master and doctoral students in the field of social work and related fields to submit their research. The topic of this issue is the role and importance of formal social support provided to vulnerable people and communities. Theoretical and empirical studies, analysis on good practices and their implications are encouraged. The manuscripts should be written in English and/or Romanian. The deadline for the submission of papers is August 2022. The editor makes the first selection of the manuscripts in according with the instructions for authors from the Social Work Review. The email address for submitting manuscripts is valentina.rujoiu@unibuc.ro.


Issue 1/2023, edited by Prof. Cosmin Goian, PhD and Lecturer Loredana Marcela Trancă, PhD, from the Department of Social Work at the West University of Timisoara, provides a space to present the results of research and articles focused on the topic: Social Work in a Changing Society. Recent social changes affect various areas in which social workers intervene. Whether we are talking about families who cannot afford the rising prices of electricity due to poverty, refugees from the war, families affected by the Covid-19 pandemic or the economic crisis, children and young people who are being exploited, homeless people or communities recovering from natural disasters, social workers are at the forefront, assisting vulnerable groups.
Receiving contributions: November 15, 2022;
Evaluation of contributions by reviewers: December 15, 2022;
Receiving final contributions: January 10, 2023;
Estimated date of publication: March 2023.
Manuscripts must be sent by e-mail by the deadline in a word format, respecting the requirements of the journal (http://www.swreview.ro/index.pl/conditii_de_publicare_en), to the two editors: cosmin.goian@e-uvt.ro and loredana.tranca@e-uvt.ro.