Homepage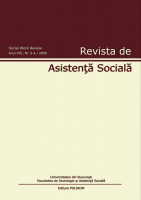 Social Work Review is aiming to be a meeting place for ideas, a mean of dissemination of researches, good practices and experiences in the field of social work. Articles from all areas of social work are welcomed. There will be published innovative articles, researches, and comments of policies, practices and their implications for social workers. Social Work Review appears four time a year: March, June, September and December. Each article is peer-reviewed by two reviewers.

Social Work Review is now launching the Archive Project that allows professionals and the public to view documents that certifies the tradition of the aforementioned review in Romania. At the moment, we can post online the first numbers of the publication that was edited by the "Ileana Princess" Superior School of Social Work from Bucharest, therefore entitled Social Work.

Issue no. 1/2017 is dedicated to Social Work Intervention. We are particularly interested in studies from various areas of social work, both public sector and NGOs, focusing on implementation of methods, outcomes/lessons to learn or proposals for change in social work interventions at micro, mezzo or macro level. Critical reflection and analysis in order to evaluate the intervention's effectiveness in particular settings with particular populations are also welcome. Submissions can be made directly to the editors: Lecturer Georgiana-Cristina Rentea (georgiana.rentea@sas.unibuc.ro) and Teaching Assistant Mihaela Ștefan from University of Bucharest (mihaela.stefan@sas.unibuc.ro ). Deadline for manuscript submissions: December 1st, 2016. Estimated publishing date of the special issue is March 2017.

Issue 2/2017 is dedicated to Contemporary challenges to social work education and communication. Submissions can be made directly to the editors: Assist. prof. Mihai Iovu from Babeș-Bolyai University Cluj-Napoca (iovu_mbogdan@yahoo.com) and assist. prof. habil. Patricia Runcan from West University of Timișoara (patricia.runcan@e-uvt.ro). We expect contributions describing and critically analysing the present social work education system, focusing on challenges and problems faced at macro level (educational policies), mezzo level (social work institutions and higher education providers), and micro level (students and teachers involved in this process).
Deadline for submissions: January 31st, 2017.

Issue 3/2017 is a special issue for those presenting their papers at the Social Work International Conference "Envisioning sustainable social work: empowering communities and individuals" held in Bucharest, Nov.3-4 2016. In order to accommodate more articles, we suggest authors not to exceed 4,000 words (without abstract, 3-5 keywords, tables/figures and references). For details on manuscript formatting please follow the instructions for authors from the journal webpage: http://www.swreview.ro/index.pl/conditii_de_publicare_en

Deadline for manuscript submission is February 15 2017.
Estimated date of publishing: September 2017.
Full papers can be sent directly to the editors: Prof. Silvia Fargion – Trento University silvia.fargion@unitn.it, Assoc.Prof. Adrian Dan – University of Bucharest adrian.dan@sas.unibuc.ro and Prof. Florin Lazar – University of Bucharest florin.lazar@sas.unibuc.ro.

Issue nr. 4/2017 invites contributors from Romania and abroad who have academic interests in the sexuality dimension of human life to reflect on the relevance of this topic in the social work field.
We encourage empirical and theoretical studies related, but not limited to: sex education in school; sexual and reproductive health issues in youth; family planning services for young people; working with Lesbian, Gay, Bi-sexual and Trans-sexual (LGBT) youth; sexual behaviour in the era of high-technology; working with young people with sexually transmitted infections (STIs); social work with people living with HIV; the impact of childlessness on the well-being of women and men; social work with infertile couples; sexuality of elderly; effect of chronic diseases on sexuality.

Submission can be sent directly to the editors: Dr. Cristina Faludi, Lecturer at the Social Work Department of "Babeș-Bolyai" University Cluj-Napoca (cristina.faludi@socasis.ubbcluj.ro or cristina.faludi@gmail.com) and Dr. Sue Kay-Flowers, Senior Lecturer at the Faculty of Education, Health and Community from Liverpool John Moores University, UK (S.J.Kay-Flowers@ljmu.ac.uk).
Deadline for manuscript submissions: July 1st, 2017.
Estimated publishing date of the special issue is December 2017.